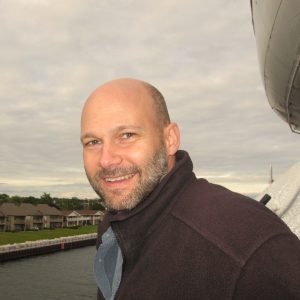 Since I came to the College of Wooster in 2001, I've taught courses in twentieth-century European history, modern France, the world in 1900, crime & punishment in history, the history of news and media, the witness in history, and documentary film. I served as Chair of the Department of French & Francophone Studies in 2017-18. Before this I Chaired the Program in International Relations (now the Program in Global & International Studies) from 2013-2015, and the Department of History from 2010-2013. I am working on a new course – a Summer TREK – to take students to Buenos Aires to study history and learn documentary filmmaking.
My research interests center on the cultural history of France in the late nineteenth and early twentieth century. I've written on crime and catastrophe in the French press of the late nineteenth century, ideas of the mass public, the debates surrounding the anarchists of Paris in the 1890s, ideals  of the press as fourth estate, and the emotions of the public execution crowd. I've also spent some time investigating the history of emotions, visual culture, and early detective fiction and the anti-detective tradition. I've worked with students on the rich local history of our northeast Ohio city, founding the Wooster Digital History Project.
I am currently completing two article projects that grow out of an investigation of modernity and the history of emotions: the first on responses to the public execution in late nineteenth and early twentieth century France, the second on empathy, modernity, and the railroad disaster in nineteenth-century France. And I am laying the groundwork for a new project on the cultural grounds of post-1945 European identities.
I spent the spring of 2019 on leave in Madrid where I had a chance to connect with the outstanding scholars of the Instituto de Historia at the Centro de Ciencias Humanas y Sociales. Other leaves and research trips have taken me to Paris, Aix en Provence, and Tunis – as well as Ann Arbor and Palo Alto. With the help of a GLCA New Directions Grant, I had the opportunity to learn the tools of documentary film at the Maine Media Workshops.
Other interests? There's no shortage: ultimate frisbee, soccer, folk music, papier mâché, the old Fiat 500, claymation, playground design and construction, Montessori education, chainsaw sculpture, and more. For the past couple years I've served as the Director of the Melissa Schultz Nature Preserve, a nature area created to memorialize Melissa Schultz, much beloved professor of chemistry and environmental studies.